------// Awards

My very first award!! WHOOOOO....I'm so proud..*sniff sniff* Many thanks to BSB Ltd. You rock Sugar! =)




Look!! AHHHHHHH..I got another award!!! This is so exciting! hehe....and from one of the funniest BSB sites too! YAY!! Tons of thanks to the Backstreet Bordello!! =)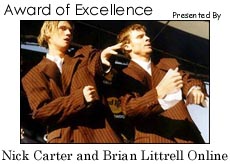 Two in one day? Wow....y'all are spoiling me - LOL! Award #3 - maybe I should print it out and frame it - hehe, j/k! Huge thanks to Nick Carter and Brian Littrell Online!!!




Award #4 from probably the most original BSB Sites out there!! This is getting freaky yo! Me gettin another award? Are you guys sure about that? hehe...j/k! Mad props to Sarah from BSBVille! *MuaHz*




Yay, a fifth award!! Whoohoooo! And from the dumbass crew too - SWEEEEEEET!! hehe - Many thanks to My Hand, Dumbass! for the award! Julie and JuLiE are da best and their site is damn funny (one of my faaaaavourites!) too so go check it out!! =)




Dis be Award #6 yo!! hehe....and dis be me listening to Justin ghetto-talk too much!! LMAO...but anyway, I'm soooo proud! hehe..Thanks Mucho to Gretch97's Backstreet Boys Site - definitely one of the best on the net!




Hey LOOK! I got meself a 7th award!! Ooooh...this is too cool, guys! Thanx so much to Backstreet News!! *MuAhZ*




Awwwwwww....*sniff sniff* I'm absolutely in LOVE with this award and allgetkev 2000. Thanks soooo much to Kim and Anna for this award - these two are like the NICEST girls so everyone go check out their site - one of my FAVOURITES (it makes you just totally FALL IN LOVE with Kevin all over again!!)




My ninth award and I absolutely love it to pieces! Thanks so much to Bittersweet Delight for this award...*MuaHz* *starts throwing a partay....and not just ANY party...a BACKSTREET party cuz a Backstreet Party don't stop, baby*




Is this not a cool award or what? My tenth award from a new site I recently discovered! You all HAVE TO visit it - the layout is amazing! Thank you much All-Backstreet!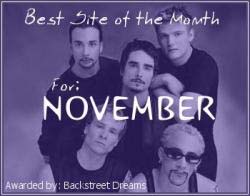 Wow...best site of the month? You are so KIDDING. Thank you so much to Backstreet Dreams. Ya'll better go check it out too!! Anyway, whoo-hoo! My 11th award! =)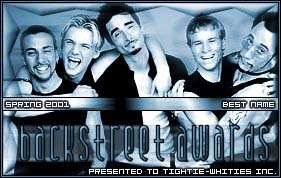 I'm so proud of this award, you can't even imagine. Thank you so much to Rachael @ Backstreet Awards and those who voted for me! AHHHH I can't believe I won!




Ooooh, sexy, sexy! LOL Isn't this so cool? I love this award, thank you so much to SEX-0-LiCiOUS for Award #12! YAY!




Is this not cool or is this not freaking cool? LMAO I didn't even know I was NOMINATED...so THANK YOU to everyone who voted for me, you're all amazing. *sniff* i feel so loved :o) Lucky #13.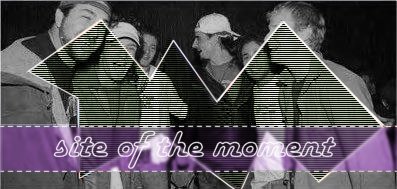 Award #14 from one of my most favourite (bsb-influenced grammar LOL) people in the world - JANIE! Thanks for the award, chica. Site of the Moment! Can you believe it?! *runs around giddily* Keep writing me some cute Nick would ya? :D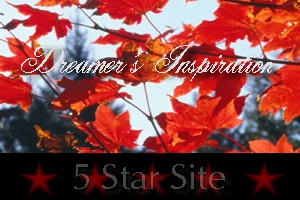 Wow...award numero 15 from Dreamer's Inspiration. Isn't it purdy? And it's got MAPLE LEAVES on it too. Kick-Ass-Ness. Thanks mucho, Kerra.