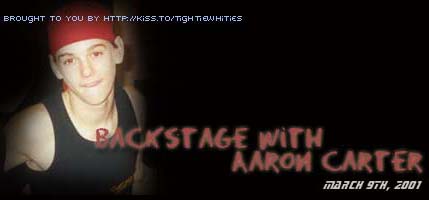 Please do not take any of the pictures from this section - these are my own personal pictures and since I absolutely HATE right-click disable, don't touch! LOL Thanks.

Click on the link at the bottom for pictures



Yup, you read right...that's BACKSTAGE with Aaron Carter. No, not the Aaron Carter concert, but BACKSTAGE! haha! So, here's the story - the local radio station here in Toronto, Kiss 92, had a contest to go on "Aaron's Party Bus" to Ottawa, Ontario and catch the Aaron Carter concert. So, I entered the contest, thinking "It's not like I'm gonna win, but I'll just enter for the heck of it anyway." So you can imagine my surprise when they called me to tell me I had won! I started freaking out and totally tearing up cause you know, I NEVER EVER win anything...I swear, I have the WORST luck in the world, but whaddaya know!




It says $0.00 cause it's free...cool eh?



So, the bus was set to leave Toronto at noon on Friday, March 9th. So me and my three friends go down and meet the Kiss 92 people and the others people who won the contest. There were 10 winners and each winner got to bring 3 guests. One of my friends who went with me was *GASP* a guy! He doesn't particularly like Aaron Carter but he came anyway. (and thank God he did...you'll know why later) He was the only guy on the bus and it was kinda funny when everyone made a big deal out of it. But yeah...on with the story. So we board the bus, and the Kiss people tell us they've got a surprise for us. At that point, I kinda knew what it would be...and of course, I was right. There will be a draw out of everyone on the bus for two people and a friend each to go backstage to meet Aaron Carter! So I was really excited, thinking how cool it'd be if I win. But the draw would come in a few hours cause it was gonna be a 4-hour bus ride. Well anyway, we watched 'Bring It On' on the bus (Brrrr...it's COLD in here! LOL) and the Kiss people were so nice as to give us free subs and drinks. (KISS RULES - everyone go listen to it!!) So, past the boring stuff. They had the draw after a while and so we all put our names down and put them in the bag. Then they had the draw, and guess who they drew? My friend Janice, and the guy!! So all four of us won backstage passes to meet Aaron. I was shocked out of my mind and started crying (yeah, I'm emotional, so what? LOL) cause ya know...I'm meeting Aaron Carter dammit!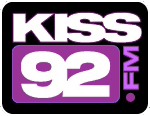 Kiss 92 Plays Today's Hit Music Now Give Me My Money! =)



>>FastForward>> Anyway, we finally get to Ottawa and while everyone's gotta wait in line to get in, the four of us get to chill with the very nice Kiss rep, who's name is also Jen! I'm telling ya, all Jen's are cool. haha! We get to go in at 6:30PM so we head out on a trek to find a washroom cause ya know...nature calls. LOL We go to the Westin Hotel next to the Congress Centre (the place is POSH) and a couple of fans are actually there. Well anyway, we go to the washroom, get ourselves all prettied up, and by then, it was time to look for the Zomba rep who's gonna get us backstage. We head back to the Congress Centre and we kinda just stand around on the steps beside the line looking for the Zomba rep. Some mom was yelling at us to get in line, thinking we're gonna cut in front of her, but it was like "chill out, woman!" LMAO Anyway, we find the Zomba rep, a very nice man named JC, and he gave us our passes, and then we got to go in right away. haha - we're so cool. LOL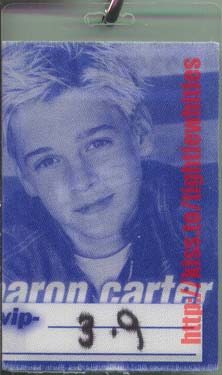 See that? We're Very Important People.



We go to our reserved seats and stick around till JC came to get us again to go backstage. After about 15 minutes, he came back and then it hit me - we were gonna meet Aaron freakin Carter! haha...we go in and there he is, standing like 2 metres away. But suprisingly..I was pretty calm. He was talking to a little handicapped girl and after she left we went up and said 'hi' and everything. BUT...it was very surprising - he did not say A WORD. Not even a 'hi' back. He was mute the whole time, he just kinda smiled at us. He signed the stuff we had and took pics with us and we gave him hugs but that was it. I expected him to talk to us, be totally outgoing, but he wasn't. So that was kinda disappointing. That made him seem snobby and stuck-up, which is what my friends think of him now, but since i love that boy so damn much, I'm giving him the benefit of the doubt. I figured that it very well might have been a bad day - i mean, imagine travelling so much at just 13 right? I excused his behaviour, but of course, my friends who didn't like him half as much as I did, didn't. And because of that, I think Aaron lost a lot of fans. Why? Cause my friends aren't fans anymore, and the people they told about Aaron aren't fans anymore either. Pretty sad, but hey, he could have at least said 'hi'. The kid was still cute tho, gotta tell ya that. =)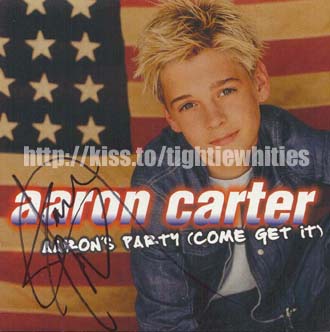 So our whole backstage experience was all that amazing - the whole think lasted 5 minutes, max. So there ya go...backstage passes aren't all that. Anyway, we went back out and the show opened with Leslie Carter. She sang 4 songs - 'Like Wow', 'Shy Guy', (I think) 'I Need To Hear It From You' and 'Open Arms'! I was surprised that she sang 'Open Arms' but I guess I should have known...Nick's her brother isn't he? LOL
After she sang, she had a little autograph session. I was the first to see her since I had an aisle seat. It was funny cause no one else noticed her but I'm just like...'Hey, that's Leslie!' LOL She's such a sweet girl, and incredibly polite - I got her autograph and she posed for a pic for me. Even though she isn't that big yet, it's nice to know she's not snobby or anything.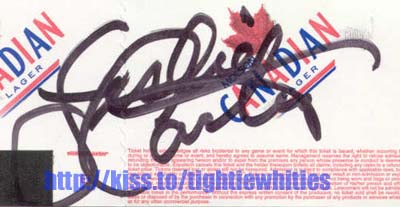 I'm tellin ya, that night, I was meeting people left and right. Shortly after we met Leslie, I met Jane Carter. Jane was just as nice too, and she agreed to pose for a photo with me. But then I had lost my friends and so no one was with me when I met her. I handed my camera to a girl there and she reluctantly agreed to take the pic. But of course, she didn't know how to use my camera, and Jane had to go. So I wasn't able to get my pic with her. That was really disappointing, but hey I gotta meet her so it was all good. =) It was exciting tho, cause look! I met three Carters in the span of 2 hours...how often does THAT happen? Now all I gotta do is meet Nick. haha! 3 down, 4 more to go. LOL

There were a lot of opening acts for Aaron's concert. He had Leslie, Ricky J, and 11:30 open for him, and they each played really long sets. Then he only came on for like an hour - hour and a half or so. That was kinda weird but it was okay. So after a REALLY long time, Aaron finally came on and the real show started. He opened the show with 'Life Is A Party' and sang mostly songs from 'Aaron's Party'. It was a pretty good show actually. At the end, I sneaked up to the very, very front and that was really cool, cause I was touching the stage. It was loud though, cause the speakers were right next to me. hehe, not good. Leslie went on stage with Aaron for their last song and it was cool to see them sing together.

So all in all, it was a great show and a fantastic night. Got some amazing pictures back. Even though the four of us were like the oldest people at the show, we had fun and that's all that really matters. =) So we kinda felt outta place...there were all these little girls wearing crop tops and leather pants, dancing away and they were all of TEN (I swear!), which was kinda...disturbing (LMAO, j/k)...but that's okay. After all, I did get a load of free stuff (they gave out stuff at the end), and I met lots of cool girls on the bus =)


>>Photos from the Concert