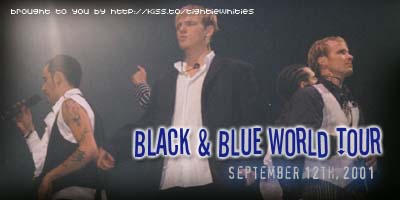 Please do not take any of the pictures from this section - these are my own personal pictures and since I absolutely HATE right-click disable, don't touch! LOL Thanks.

Click on the link at the bottom for pictures



The circumstances for this concert were a little…different. First of all, it was the day after the September 11 attacks. Needless to say, everyone was on edge and still reeling from what happened. At first, it seemed a little weird to be going out and having fun while most of the nation was sad…but I got over that. LOL The second thing was that I was sick as hell. I knew the night before that I was probably catching something but I hoped it wasn't too bad. But at school that morning I got a fever, which isn't very good if you're planning on screaming your head off that night. But I got home and refreshed myself before going down to the Air Canada Centre with my friend Ada and we got there around 6PM. We chilled for a while and got our Kiss 92 Concert Tees from the local radio station. The security was really tight this time and they didn't allow backpacks so I had to leave all my concert gear with the coat check, which really SUCKED cause I was gonna throw something at Nick but that didn't end up happening :( I had to smuggle my camera in by tying it around my foot – good thing I wore big pants – but I also ended up losing $20 dollars in the process grrrr Not too happy about that. Anyhoo, we got in but it was already 7 and we still had to find our seats cause I thought the showed started at 7:30. We missed Krystal's first song but we had AMAZING seats.





We were on the floor, 25 rows from the stage, which is pretty darn good, if I do say so myself! Hehe They were the best seats we've ever had and we had a perfect view. The venue security on the floor were actually very nice – they were strict but nice about it, which was a nice surprise…plus they let me use my camera so they were my new best friends hah As you can see, I got REALLY GOOD pics, but my recorder didn't work very well and I couldn't tape the concert the way I wanted to. After Krystal sang her set, we went to look for her to do her autograph session. There was already a huge lineup by the time we got there so we just watched from a distance. She's a real sweetie. So we went back to our seats when Sisqo came on and he was pretty good too. *that thong, th-thong, thong thong!* The one thing I can say is that he had A LOT of costume changes for an opening act…he practically had a new outfit for every song he sang – diva much? Lol Being the dumbass that I am, my camera ran out of batteries so I had to run back outside to my backpack and get batteries. Thank goodness I was prepared or else I would have seriously killed myself LOL When I got back, the techies were connecting wires and stuff right over where we were sitting so we kinda just watched. Haha exciting, don't ya think? lol After maybe half an hour, the Boys came out. But it wasn't the flashy 'Everyone' entrance I was expecting. The Boys came out on stage in their street clothes along with Sisqo, the rappers he performed with, Krystal, and all the BSB Road Crew. At that point, I knew something was up. I figured they would do something for the late Daniel Lee, one of the crew members who died on Flight 11, cause I caught the phone interview Nick did with Kiss 92 just before I left for the ACC and he was talking about that. Brian talked to us about the tragic events that occured the day before and they showed a picture of Daniel Lee on the big screens. Brian asked us for a minute of silence and it was amazing, the entire arena was quiet - I could have dropped a pin on the ground and the Boys could probably have heard it from where they were standing. Anybody can tell you, making ten thousand Backstreet Boys fans quiet isn't easy. LOL But we were all touched by what happened…After that, Brian thanked us and they left the stage. So we waited again, listening to the cheesy 80s music they love to play in the venues (" That's the way…uh-huh uh-huh, I like it" lmao) but the flying potatoes did eventually show up on the screen at around 9. heh So the Boys did their stuff, and came out to talk to us. Aj told us about how he was 70 days sober (you go, AJ!) and well, seeing that I'm writing this like 2 months later…I don't remember much. LOL Sorry. The video of when they were old grandpas in the future was hilarious – Nick and his tummy was adorable – I liked the hip surgery part LOL But basically, I got to see the most of them when they went to the small round stage at the back. I forgot that they walked through the audience to get to the stage so I didn't remember to keep an eye out for them (durnit). We did end up right smack dab in front of Nick again for that part of the concert (I have a talent LOL) but the kid was in La-La Land or something. I don't think he focused on anybody, he kinda just ignored us all, no matter how much we tried. That was okay though cause Brian and Aj both waved at us so that was pretty darn cool. Made my day, right there. (Thanks guys) They started to sing Time so we ran back to our seats but it was so crowded – it was too bad though cause our seats were practically right under the bridge. We had thought about this before – to stay or not to stay? We opted to go to the small stage but I guess that was the right choice if both Brian and Aj saw us right? lol I still ended up with good pics from the bridge though – mostly of Kevin and his cornrows haha I also tried to catch a pic of Howie with a pink wig on that someone threw up at him but he was too far away. :( The rest of the show was good too… Before the Call started, AJ came out to talk to us. He was like "Well I've got good news and bad news. Which do you want first?" So we all scream, and he's like "Who wants the good news first?" and "Who wants the bad news first?" and most people raised their hands for the bad news first – so he said something along the lines of "Man, ya'll are pessimistic." LMAO They came out with Maple Leaf jerseys for SOMH and they were having a lot of fun with this gold party hat thing at the end…weirdos. LOL I think Brian came out with Healthy Heart Club shirts too that he threw out to the audience. After that, they came out to do Drowning for the encore. It was the first time I had ever heard the song – it was cool to hear a song for the first time live. The acoustics were a little bit muddy so I couldn't make out all the words but the song still sounded beautiful. I remember thinking "Kevin's singing!!!" lmao I snuck up to about 10th row for Drowning…not that big of a difference but it was still closer heh They sounded genuinely awesome though and I loved every second of it. But then I guess once the concert was over, all the energy was drained out of me and I felt sick again – I'm pretty sure the only thing that kept me from collapsing during the concert was the adrenalin you get when you see the Boys. So when we were leaving, Ada wanted to look for the buses. So we stuck around for a while and did some hunting but we didn't find anything. I wanted to stay and look but it was a school night and I was starting to feel nauseous so we left and went home. When I went to bed that night, I felt nauseous still but I had the biggest smile on my face. :)



Song List:
Everyone
Larger Than Life
Not For Me
What Makes You Different
Yes I Will
More Than That
I Want It That Way
Quit Playing Games/As Long As You Love Me
I'll Never Break Your Heart
Don't Want You Back
Show Me The Meaning Of Being Lonely
How Did I Fall In Love With You
Time
The Answer To Our Life
All I Have To Give/If You Stay
Shining Star
Everybody
Get Another Boyfriend
The Call
Shape Of My Heart
Encore
Drowning



Quotes:
"I AM the short Puerto-Rican of the group!" - Howie
"Nick just needs more room cause he's so...whatever!" -AJ
"Cause I am TWICE THE MAN!" – Nick
"Like a flower to a tree, that's how close I wanna be, not to Nick's smelly feet." –Howie
"How come it says Nick AND Nick?" – Kevin


Funny Moment Not Mentioned:
Nick rubbing his pot belly and Howie being so proud of his hip surgery in the video when they're all old and wrinkly. :)

>>Photos from the Concert