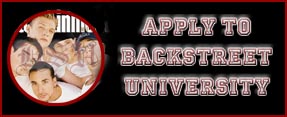 ------// PROGRAMS OF STUDY



Selecting a major of study is essential for graduation. We urge our students to put great thought into this, so we have drawn up a detailed explanation of the many courses offered at BSU.

College of Education
One of the primary goals of BSU's College of Education is to spread Backstreet knowledge and to improve research studies. Many of our professors are Nobel Prize laureates for their continuing research on the five most-wanted (be the female population) men of America. Professor Mary Carter is credited for the discovery of Brian Littrell's favourite colour, a breakthrough that many Backstreet scientific studies are based on today. You will work with our skilled professors to further Backstreet knowledge in the future and teach others what you know. At the moment, we are working on researching the speed of speech of Kevin Richardson in words per minute.

School of Espionage
Contrary to popular belief, BSU does not condone spying, but we DO support the many techniques associated with it. These techniques are neccessary in the art of stalking, as well as research. Students will learn to work like the CIA, gathering useful information such as where the Boys stay on tour, what flights they're on when they travel long distances, as well as intineraries by the minute!

College of Stalking
Based on the School of Espionage in some facets, BSU's College of Stalking is world-reknown. While you will take a few supplemental courses at the School of Espionage, the art of stalking is more than just spy techniques. Not only will you learn how to find out where the Boys are 24/7, you will also learn what the best conditions for stalking are. That means casual clothes and lose the stilettos, honey. Tripping and falling in front of Nick Carter is a no-no if you want to impress.

School of Acronyms
IWITW? ALAYLM? ANOWTBSB? If you can't say what these acronyms stand for, then this is the course for you! Being a psycho Backstreet Boys fan is not complete without being able to recognize and recite every Backstreet Boys song, video or album by it's shortform. This course will enable you to know exactly what's being said, even if it's all in acronyms, within a blink of the eye. As well, students will be able to enrich their lives by learning how to write and create their OWN acronyms!

Language School
Tabloids come in all languages. How are you going to stay up-to-date in the Backstreet Rumour Mill if you can't understand articles written in all different languages from countries all over the world? From Swedish, German, Dutch, Cantonese, Mandarin, Spanish, French, we have classes in it all. BSU boasts world-class teachers to help you master all your foreign languages so that you'll never be in the dark...no matter where the Boys decide to go. Speculation that Nick is dating a Swedish model? You'll know all about it first.