------// LOOK AT THE CUTE BABY BRIAN!
Brian...well Brian has stayed pretty much the same most of his life. This guy has not changed...not even a change of hairstyle (well..since the beginning of backstreet anyway, cause anything before that doesn't count. who said? i said.) Don't believe me? Look: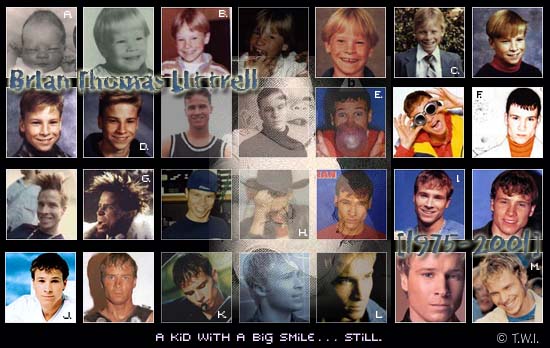 A. The Conehead Stage - The very first picture (of a million more to come) of baby Brian. He kinda looks like a conehead there though...a very bald, very angry conehead.
B. The I'm-Too-Cute Stage - This is the definition of 'cutie-patootie' people. Who wouldn't love that smile?
C. The Dressed-For-Church Stage - looking smooth, most likely on a Sunday, where the curls are just beginning to show. (look carefully)
D. The Boy-Next-Door Stage - The kinda guy who's funny, kinda cute, but one you never really notice in high school.
E. The Straight Cut Across Stage - Hair that looks way too square and a pose where the photographer deserves to be shot cause the bubble just screams 'teenybopper'. Must have been back in the Lou-days.
F. The Zombie Stage - I honestly hope they fired that make-up artist cause the boy looks DEAD here. He's the same colour as the WALL! That's almost scarier than the...
G. The GRRRR-I'm-(supposed to be) Scary Stage - BIG spiky hair and fangs for the 'Everybody' video shoot. Not at all scary (I don't think ANYTHING can make Brian scary...except for the Zombie stage of course) but still cool.
H. The Corncob Stage - oh yeah, cause that big-ass cowboy hat and glasses look REAL COOL.
I. The Brown Bangs Stage - curly brown bangs.
J. The Brown Bangs Stage - curly brown bangs (again).
K. The Brown Bangs Stage - curly brown bangs (again x 2).
L. The BLONDE Bangs Stage - curly BLONDE bangs. *oooh...big difference*
M. The Blonde Bangs With Stubble Stage - Present day Brian Littrell. Look at that smile! How freaking cute is that? But if we look back...the only changes were 1)curly blonde bangs and 2)facial hair. Case closed.





[Note:] Take the above collage picture and you die....i spent way too long making it so don't even think about it.