------// AWWWW ITS BABY NICKY!
Now we come to Nick...probably the Backstreet Boy who has grown the most - we've watched him grow from a skinny little pre-teen boy into a gorgeous, sexy, 21-year-old man. He turned out pretty good didn't he?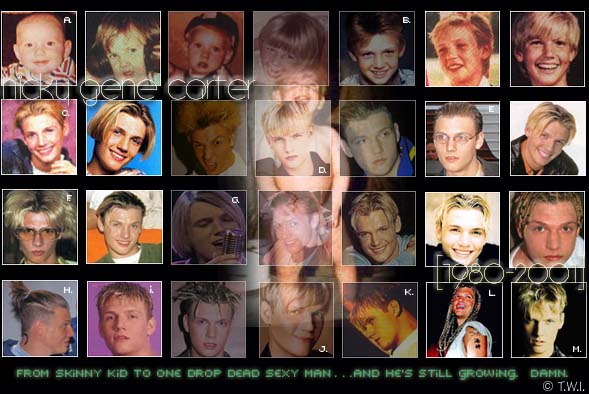 A. The Cute Lil Baby Nicky Stage - bald but even then he had a million dollar smile.
B. The Star Search Stage - posing with (get this) BROWN hair for all those agencies.
C. The Just-Started-Backstreet Stage - one of the first photo shoots of a million that would be comin in the next 8 years. Skinny 15-year-old with a big smile.
D. The Bowl Cut Stage - *GASP* The dreaded bowl cut.
E. The Wannabe Mature Stage - slicked back hair and glasses for those oh-so-important events.
F. The "Dunno-Bout-You-But-I'm-In-A-Video-Shoot" Stage - big poofy hair and a bad outfit for the As Long As You Love Me video shoot.
G. The Long Hair Stage - thick, blond, and desperately in need of a cut hair
H. The Ponytail Stage - guessin he thought the ponytail looked cool....uh huh.
I. The 50 Most Beautiful People in the World Stage - the middle part is gone...and replaced with short, sexy spikes.
J. The See-Through-My-Hair Stage - blond hair covering blue eyes - ten bucks says he got pissed, which leads us to...
K. The Hot Sexy Stage - all grown up and mighty fine if I do say so myself. Blond hair, blue eyes, and a lil bit of stubble to match.
L. The Rocker Stage - Mr. N-Control with long braids and tattoos
M. The Hot Sexy Stage II - present day Nick Carter with a little bit of all his favourite hair styles mixed into one - kinda middle part, kinda spiky, and kinda in his eyes. Mmmm-mmmm, yummy.





[Note:] Take the above collage picture and you die....i spent way too long making it so don't even think about it.